Medicaid is Changing in North Carolina! Find out information on how this could affect your child's care at Carolina Pediatric Therapy.
The North Carolina Medicaid Program is undergoing transformation to a Managed-Care model effective July 1, 2021.
Enrollment for the new Managed Medicaid Plans
BEGINS: March 15, 2021
ENDS: May 14, 2021
Before you choose a plan, there is some information you will want to explore. We have prepared a Frequently Asked Questions (FAQs) to help guide our families in their decision making process.
What are the different plans? There are 6 different plans in the initial roll out. Those will be administered by: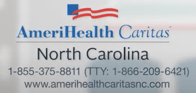 .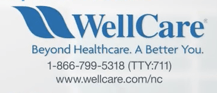 .

.

Blue Cross and Blue Shield
United HealthCare
WellCare
AmeriHealth Caritas
Carolina Complete Health
Eastern Band of the Cherokee (EBCI)
I have questions about a specific health plan and would like to contact or see any extra benefits they offer. Please click on this link: https://ncmedicaidplans.gov/find/viewhealthplans
Which plans is Carolina Pediatric Therapy a provider? We are enrolled as providers for the all of the Managed Medicaid Plans that are offered across all counties. We are currently awaiting acceptance into the network for EBCI.
I've heard about Tailored Plans. Are you in network for those? Tailored plans have not rolled out yet and will not be made available until July 2022.
What is NC Direct Medicaid? If you stay with your child's current Medicaid or NC Healthchoice Plan, in July, these will be called NC Direct Medicaid. NC Direct Medicaid will continue to be managed through the State/NC Division of Medical Assistance. For those who remain on NC Direct Medicaid, nothing will change about your child's policy. You will not be required to enroll in a managed care plan. Depending on your child's area of need, you may be able to stay with your current medicaid plan hosted by the State.
Who can stay with NC Direct Medicaid? If your child receives or may receive behavioral health services, members may need to stay enrolled in NC Direct Services and their Local Management Entity (LME) in order to continue receiving behavioral health. In the areas we serve, the LMEs include Vaya, Partners, & Cardinal Health. If your child receives traumatic brain injury support or intellectual or developmental disability (IDD) support, they also may need to remain with NC Direct Medicaid in order to continue receiving those services provided through that program. If you are unsure if you should stay with NC Direct, check this link. https://ncmedicaidplans.gov/learn/get-answers/nc-medicaid-direct-services
Do you need to choose a plan? Click the link below to see. https://ncmedicaidplans.gov/learn/who-must-choose-health-plan
Can I change my health plan at any time? You can change your plan only one time, up to 90 days after the start date, on your insurance card. After that you can only change your plan for the following reasons. https://ncmedicaidplans.gov/find/tips-choosing-health-plan
I've searched for Carolina Pediatric Therapy in the list of providers, but can't find it there? How do I search for Carolina Peds? Carolina Pediatric Therapy is our "doing business as" name, but our company's enrollment name is Carolina Rehabilitation Specialists, Inc. Even if you are served in one of our community outreach clinics, search for our 9 West Summit Avenue, Asheville, NC 28803 location address. If you see that address under the plan, we are in-network for that plan and can provide continued therapy for your child. Be sure to enroll in a plan where you find out name! That will insure services continue beyond July 1st.
Who can I call if I have questions about enrollment? Your local county Department of Social Services (DSS) will play a role in the enrollment process and case managers are trained to assist beneficiaries with enrollment decisions. ncdhhs.gov/localdss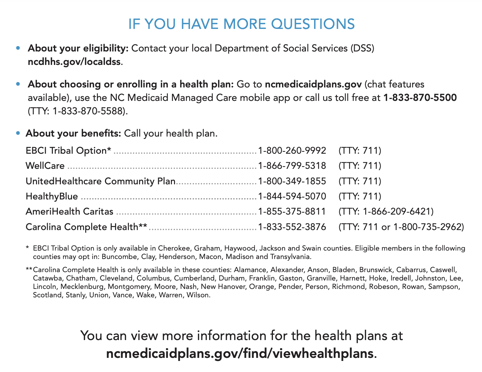 How do I know my Region? Find your county on the map below.